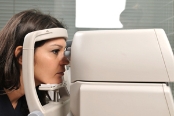 At our Centre you will be warmly welcomed by our receptionist staff. At the initial consultation (which can take up to 2 hours) your eyes will be thoroughly examined by our clinical staff and Dr Fernando.
State-of-the-art diagnostic equipment will help assess your suitability for laser vision correction, or alternative techniques. Considering the uniqueness of your eyes and your vision, the results will show which treatment option is best.
Your surgeon, Dr Glen Fernando, will discuss your options with you and be able to answer any questions you may have.
Please note: No referral is necessary, but if you do have one from your GP or optometrist, please bring it with you.
Please do not wear your contact lenses for a minimum of 3 days prior if you are a soft contact lens wearer, or 2 weeks if you wear soft toric lenses or 3 weeks for Rigid Gas Permeable/ Hard lenses. Contact lens wear can distort your corneas slightly and affect detailed measurements.
Bring your most up-to-date pair of spectacles as well as readers (if you have them), and your contact lens powers.
Bring a pair of sunglasses with you to prevent glare, as your pupils will be dilated for examination.
It is not advisable to drive immediately following your consultation. You may need to wait at least an hour for your eyes to adjust before driving, or have someone to drive you home.